Winter is quickly approaching our door and the Destination Society of Eastern Bohemia has decided to invite you to the slopes of Pardubický Region. We would like to introduce you main ski centres which can be found here. Orlické hory Mountains, and Králický Sněžník area is located in Eastern Bohemia, and offer many possibilities for ski beginners and for advanced skiers as well. You can also ski in other parts of the region - Hlinecko and Českomoravské pomezí area. Many ski centres have prepared a lot of news for their visitors and better facilities for this winter. More useful tips and advice how to spend winter holiday in Eastern Bohemia can be found on the website www.vychodnicechy.info.
Orlické hory Mountains: downhill and cross-country skiing
Orlické hory Mountains are about 50 km long, and is situated on the Czech-Polish frontiers. The highest mountain is Velká Deštná with 1 115 m above see level.
Because in this area a zone of army fortresses was built here before WW2, skier can meet various bunkers and army ramparts. The biggest and most popular ski centres are Deštné, Říčky, České Petrovice and Čenkovice. All of these ski centres are a part of the system Sitour, and you can follow on the website www.vychodni-cechy. info up-to-date information concerning snow and running conditions. Let us introduce some areas, and also their news for this season.



Deštné

Ski centre Skicentrum SPORTprofi Deštné has prepared for snowboarding lovers new blocks in the snowpark and emempowered technical snowing. You can fi nd here also ski school, ski and snowboard rentals.
---
Its altitude offers to this national park almost ideal conditions for both downhill and crosscountry skiing.
---


Ski centrum Říčky

Other ski area which has invested into modernization is Ski Centrum Říčky. This year you will fi nd here a much larger parking lot. Its altitude, modern ski lift and good pistes orientation predestinates this ski centre to be the best one in Orlické hory mountains and one of the top ones in the Czech Republic. There is of course ski servis, ski equipment rental, restaurant and depository. And the skier who prefer cross-country skiing will fi nd here 42 km long cross-country skiing tracks.

Great conditions for ski beginners, families with children and snowboardists can be found also in the ski centre Ski Baier v Českých Petrovicích. For snowboardistsbeginners, there is a snowboard school. There are 3 ski lifts in the centre, with the trasport capacity of 1900 persons per hour. Pistes are being set up every day. Two pistes are being artifi cially snowed and night skiing is possible there. The ski servis, rental, sko school and refreshment goes without saying.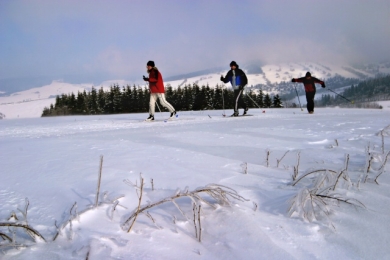 Buková hora

Ski area Buková hora Čenkovice in the Orlické hory Mountains sis situated on the border of the Orlické hory and the Jeseník Mountains. This year the snowing was improved and new snow guns were bought. For cross country skiers, there are several kilometres of set up traces.

One of the other areas with a rich off er is a ski centrum Peklák in Česká Třebová. It can be found in the north of the town in an altitude of 400 - 550 m above sea level. A red piste is here for advanced and demanding skiers. You also fi nd many services, a restaurant, skiservis, ski deposit and parking lot free of charge.
A good destination for a winter holiday is a ski area Olešnice in Orlické hory, The centre off ers artifi cially snowed pistes, night skiing, refreshment, ski servis and rental, free parking.

Other ski area in this region is Ski areál Přívrat. It has a long tradition and all generations will enjoy their stay here. You can fi nd 3 pistes, 4 ski lifts, artifi cially snowing, ski school, ski rental and refreshment. Free parking lot is at the down lift station.


Sněžník

Skiing in the area of Králický Sněžník Mountains

Králický Sněžník on the Czech and Polish border is the third highest mountains in the Czech Republic. The name Sněžník ("Snow Hill") comes from the peak, which is covered with snow for 8 months in a year.
The biggest and the best equiped is for sure Ski centrum Sněžník, which is located in the village of Horní Morava. Pistes are of all levels, the most advanced skiers can use the black piste, the upper part is considered to be the most demanding in this country. You can fi nd here all kinds of services: ski school, ski rental, skiservis, refreshment, parking lot. And of course, infocentre and free parking lot.
---
There are several ski centres in the Králický Sněžník area.
---

Other centre for ski lovers in this locality is Ski areál Větrný vrch. It can be found in the middle of the village Dolní Morava and off ers a piste 800 m long, with artifi cial lightning and ski lift. Snowboarding lovers will fi nd here also snowboard park with jumping barriers and ramps. Also slalom track, skibar, skibus, ski rental, good music and refreshment is prepared here for you.

To the south from the ski area Větrný vrch in the village of Červená Voda can be found another ski centre Šanov. There are 3 pistes and 2 ski lifts with the capacity about 500 persons per hour. It is not a very large area, but the nice and calm place and almost no queueing is an advantage of it.



Mladkov

To the nortwest from the town of Králíky in the village of Mladkova Ski area Mladkovcan be found. It is a good place for intermediate skiers and open is during week days, as well as during weekends and holidays. There is one ski lift with the capacity of 880 persons per hour, and a brand new snowpark. It is a calm destination for relaxation and for cros-country skiing as well.

Also Českomoravské pomezí Region welcomes skiers



Ski area Bystré – Hamry

In the Ski area Bystré – Hamry a slope 350 m long and 90 m superelevation. Opening hours are according to the interest of visitors. At the bottom of the slope, there is a restaurant and accomodation facilities. This destination off ers possibilities for cross-country skiing in a beautiful scenery, and there is also a hotel, a part of which is a swimming pool with sea water 2 km from there
You can ski also in the Hlinecko region



Hlinsko

is quite new ski area in the town of Hlinsko v Čechách in the Českomoravská vrchovina Highlands. There are two pistes with three modern ski lifts with the speed regulation, which is advantage for beginners and children. Also night skiing and artifi cial lights can be found here. A parking lot for 300 cars near the ski lift is free of charge.

Other skiing possibility in this locality is the area Ski Hluboká, which can be found near the town of Trhová Kamenice in the altitude of 580 m above sea level. There is a ski lift POMA 400 m long. Lighted piste has the superelevation of 60 m, and also artifi cial snowing is used if necessary. A free parking lot and refreshment can be found here, too.

And one more ski area which should be mentioned in this locality: A Ski Club Trhová Kamenice. A local piste is 300 m long and superelevation is 42 m. There are two ski lifts.