From the gallery of the town tower
The monk from the townhall yard
From the gallery of the town tower
The town tower in Chomutov was built in its full height after the year 1525. In the oldest picture of Chomutov from the end of the 16th century the gallery enriched by side round little towers can be seen. The roof survived the big fire but the Thirty Years War it didn't. The town paid a huge reconstruction, the gallery was enlarged and got a solid iron railing, and the apartment of the tower man on the top floor was also changed. The tower got eight-sided pseudo-gothic roof with sky-lights and a new tower clock, the machine of which can visitors see until today. Next reconstruction was in the years 1985 – 1989, when the observation gallery was open and the exposition of the town history was installed in the interior. The weather however influenced the technical conditions insomuch, that another restoration was necessary in 2007: reparation of its bracket and the paving was exchanged for sandstone plates, which are closer to the original materials. Until the 19th century the town tower in Chomutov was the only high view point on the way from the Krušné Hory Mountains, but these days it is one of many others; nevertheless it remains perceptible and incommutable, due to its acute roof.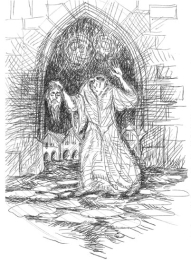 The monk from the townhall yard
Next to the tower the dominant of Chomutov central place is the building of the townhall with the church of St. Catherine, which hides many a secret. One of them can be the Lapidary of the Regional Museum in the inner "monkish" yard of the townhall: earlier – before the 19th century – the yard pavement used to be much lower then today. Always when the town of Chomutov is in danger, after 1 p.m. the monk in a white robe comes out from there. He carries his head under his arm and is slowly walking from the townhall across the square to the church of St. Ignatius and back. At the same time he appears in the skylight above the townhall gate, and raises his hand as a warning. People say that always when he was seen, the big fire raged in the town. The story tells that Bohuslav Felix Hasištejnský from Lobkovice had the guilty monk immured, and he can't find peace any more.


The Town Information Centre
Chelčického 99, 430 28 Chomutov
Tel.: +420 474 637 460
E-mail: infocentrum@chomutov-mesto.cz
www.chomutov-mesto.cz